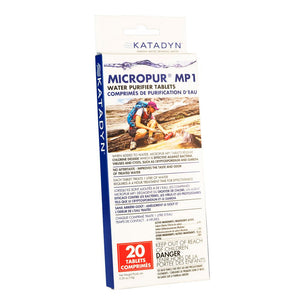 Tender Corporation
Micropur Water purification Tab
Regular price
$ 11.95
$ 0.00
Unit price
per
The perfect addition to your emergency kit, Katadyn Micropur Purification Tablets release chlorine dioxide into contaminated water to treat against bacteria, viruses, and cysts such as Cryptosporidium and Giardia.
Best used for emergency disinfection of drinking water, Micropur MP1 tablets require four hours to fully decontaminate 1 liter of water.
When used as directed, the tablets make contaminated water safe to drink with no aftertaste.
Each tablet is individually sealed in the packaging. As long as they're sealed, the tablets have a four-year shelf life.
Not recommended as your go-to water filtration system. Suitable for clear water only.
Micropur MP1 tables are the only tablet or liquid currently registered by the EPA that effectively controls Cryptosporidium.
Extensively tested using EPA testing protocols.
---