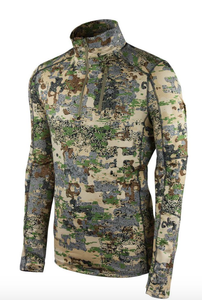 Forloh
Forloh Men's Deep Space Half Zip
Regular price
$ 129.00
$ 0.00
Unit price
per
Warm, Dry and Scent Free
FORLOH's award winning base layer top. Voted 'Best in Hunting kit" by Outside Winter Buyer's Guide for 2022. This 4-way stretch half-zip base layer is the first way to improve performance during a hunt, thanks to world-class next-to-skin comfort and scent detection technologies with proven results for hunters.   
The most technically advanced  baselayer on the market, specifically for cold weather, featuring FORLOH's flagship warming technology Trizar™, a NASA Certified Space Technology woven in every fiber of this shirt. Trizar™ technology is optimized to capture and re-radiate your body heat, keeping your core body temperature 2.0F warmer. It diffuses moisture caused by sweat to keep the wearer dry and comfortable. 
This award winning half-zip long sleeve cold weather top combines the best scent-control technologies available in the outdoor industry, to provide the most comprehensive odor protection in the hunting market, through an exclusive combination of Polygiene® Odor Crunch + Stays Fresh, these technologies tackle odors caused by bacteria coming off the body while simultaneously eliminating outside scents, helping eliminate detection caused by odor. For these reasons it is the ideal 'next-to-skin' base layer for multi-day hunting trips in the backcountry.
Proudly, 100% designed, sourced and made in America, FORLOH's line of award winning base layers are the most advanced starting point for every outdoor performance layering system - like FORLOH's Tri-Layer System. 
---